Wintersday

It's time for Wintersday, that joyous time of year when towns glimmer with festive decor, vendors offer seasonal treats, and the hearts of Tyrians everywhere are filled with goodwill.
As always, the towns of Lion's Arch, Droknar's Forge, Ascalon City, Kamadan, and the Eye of the North will be decked out in Wintersday decorations. Visitors to Lion's Arch, Kamadan, and the Eye of the North will be invited to participate in holiday quests, missions, and games, all with their own rewards.
Mark your calendar! Wintersday events begin at 12:00 p.m. Pacific (UTC -8) on December 19 and run until 12:00 p.m. on January 2.
Wintersday Holiday Events
Holiday quests in Lion's Arch, Kamadan, and the Eye of the North! This is your chance to participate in popular quest chains that capture the spirit of the season.
Two repeatable quests set in the Secret Lair of the Snowmen. It's your choice: help save the Snowmen and all of Wintersday or lead a group of Grentches for a final "Bah, humbug!" of the season.
Venture into the Underworld for a series of repeatable snowball fights against the forces of Grenth or the followers of Dwayna. Seize control of piles of presents to claim victory for your side in this frosty fray!
Holiday headgear! Continuing the annual tradition, you can earn up to two festive headpieces by speaking to Brrrnadette and Krunch in Lion's Arch or Kamadan. Once you meet their demands, they'll give you a Frozen Accessory Token that's redeemable until 12:00 p.m. on January 9.
PvP snowball fights! Random forces unite within an arena to fight for either Grenth or Dwayna. The first team to gather five presents for its patron deity wins the day!
The Wintersday grand finale will take place in Lion's Arch and Kamadan on New Year's Day, beginning at 12:01 AM on January 1, and repeating every three hours until 12:01 AM on January 2.
For additional information about Wintersday, check the Guild Wars Wiki!

Special Wintersday Costumes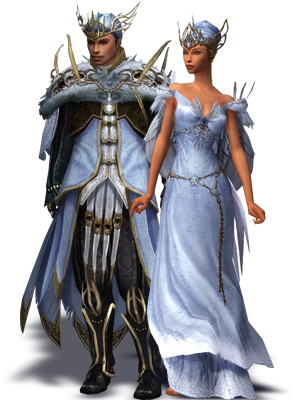 Wintersday is the perfect time to dress up in costume and get into the spirit! Pick up your Dwayna or Grenth costumes at the Guild Wars store in-game or on the web and celebrate in style!